Elder Tree Policy on Coronavirus
As an organisation that works with the elderly, who are particularly vulnerable to health issues, it is important to keep ourselves up to date on the latest information regarding the Coronavirus (COVID-19). As with all respiratory viruses, it is likely that the elderly and those with chronic medical conditions may be vulnerable.
From Monday 16th March 2020, Elder Tree suspended all activities. During lockdown Project Workers were in touch with all our beneficiaries through phone and video calls, as well as delivering shopping and hot meals. We also started running activities over Zoom and brought many beneficiaries online.
Elder Tree started a return to activities when lockdown lifted and have been steadily buidling back up to running all of our groups again. We are keeping to guidelines on socialising and making sure we are doing all we can to keep our staff and beneficiaries safe. We ask that anyone who is feeling unwell does not attend groups.
We ask that everyone do their best to stay well and to look after yourselves and each other.
As before, our advice is to:
Wash hands frequently and thoroughly, especially after coughing, sneezing, or blowing your nose.
Wash hands after touching frequently handled objects and being in public areas. Especially take care to wash hands before eating.
If anti-bacterial wash or gel is all you can access, use it.
Be aware of the risk of transferring infection through surfaces, use regular cleaning products to clean and disinfect surfaces.
Cover your mouth and nose with a tissue or sleeve when coughing, sneezing or blowing your nose. Do not use your hands. If you use a tissue, throw it away immediately.
Do not touch your eyes, nose or mouth if your hands are not clean.
Plymouth City Council- COVID-19 in Plymouth
Plymouth City Council has outlined some new measures that we would like to share with you.
First is the reminder of the measures we can take to slow the virus.
COVID-19 has the ability to pass between people before they know they have it and are spreading it, these are some effective measures that help stop the virus spreading:
• Social distancing- if we keep our distance from each other the virus cannot pass between people
• Face masks/coverings- this prevents the virus from spreading by droplets in our breath. If spaces are crowded or poorly ventilated then avoid them or wear a face covering if you have to go inside
• Washing hands regularly- for at least 20 seconds after blowing your nose, sneezing or coughing, before and after you eat and when you return inside from the outside
• If you have any of the classic COVID-19 symptoms you must isolate and have a PCR test. Symptoms can be mild: a slight temperature, a mild cough.
• Self-isolate properly by staying at home for the full period required
• Meet others outside if you can, it is safer than meeting indoors
• Take a lateral flow test twice a week
• If you haven't already, then get vaccinated. This reduces your risk of catching and passing on COVID-19, and it means that if you do get it, you will be more likely to have a milder illness
Second, there are some changes being made across the city to aid the prevention of the virus:
Help and support is available
- Plymouth City Council's dedicated COVID-19 web pages are updated frequently at: https://www.plymouth.gov.uk/coronaviruscovid19information
- Help with food, money and supplies for anyone needing to self-isolate is available at:
https://www.plymouth.gov.uk/coronaviruscovid19information/ineedhelp
• Testing
- Asymptomatic testing – testing twice a week using a lateral flow test if you do not have symptoms will help you to prevent passing on the virus without knowing. You can collect home testing kits from a number of locations, or order them to be delivered at https://www.gov.uk/find-covid-19-lateral-flow-test-site
-Get a PCR test and self-isolate if you have symptoms – testing and self- isolating properly by staying at home for the full period, prevents transmission. You can book at PCR test at https://www.gov.uk/get-coronavirus-test or by calling 119.
Vaccine rollout update
The Government has now announced that anyone over 16 can get their vaccination and anyone who is vulnerable or a front line worker can get a booster shot.
Home Park has availability, so if you are eligible you can book a slot either online using this link or by calling 119.
More information is available on the NHS website: https://www.nhs.uk/conditions/coronavirus-covid-
19/coronavirus-vaccination/

You can help by spreading word yourself. If you have had a good experience somewhere, share the news with other people. If you have had a bad experience let the City Council know

Scams
Elder Tree has been in touch with the National Trading Standards Scam Team and Friends Against Scams to deliver some information regarding avoiding scams in this time when many elderly and vulnerable people are in need of help.
Things such as Facebook Community Groups, WhatsApp Groups and the Nextdoor social network that send neighborhood alerts can be great ways of staying in touch with those around you. As these are online and not in person please be aware of who is trustworthy.
Here are just some of the scams we are aware of, but please note that criminals come in all shapes and sizes and can contact you at the door, by phone, post or online:
• Be aware of people offering miracle cures or vaccines for coronavirus – there is no specific treatment for coronavirus (COVID-19). Treatment aims to relieve the symptoms until you recover.
• Home cleaning services
• People impersonating healthcare workers, claiming to be offering 'home-testing' for coronavirus – this is a scam and these kits are not currently available to buy.
• Emails saying that you can get a refund on taxes, utilities or similar are usually bogus and they are just after your personal and bank details.
• There are lots of fake products available to buy online that say they can protect you or cure coronavirus. These will not help and are designed to take your money.
• There are new mobile phone applications that claim to give you updates on the virus but instead, they lock your phone and demand a ransom.
• Your bank or the police will never ask for your bank details over the phone.
• People offering to do your shopping or collecting medication and asking for money upfront and then disappearing.
Tips to avoid being scammed:
• Be cautious and listen to your instincts. Don't be afraid to hang up, bin it, delete it or shut the door.
• Take your time; don't be rushed.
• If someone claims to represent a charity, ask them for ID. Be suspicious of requests for money up front. If someone attempts you into accepting a service they are unlikely to be genuine. Check with family and friends before accepting offers of helps if you are unsure.
• If you are online, be aware of fake news and use trusted sources such as .gov.uk or NHS.uk websites. Make sure you type the addresses in and don't click on links in emails.
• Only purchase goods from legitimate retailers and take a moment to think before parting with money or personal information.
• Know who you're dealing with - if you need help, talk to someone you know or get in touch with your local Council on the numbers below.
• Protect your financial information, especially from people you don't know. Never give your bank card or PIN to a stranger.
Contact information:
• If you think you've been scammed, report it to Action Fraud on 0300 123 2040 and if you need advice, call the Citizens Advice Consumer Helpline on 0808 223 1133. If you are in immediate danger, contact the police on 999.
• Contact your bank if you think you have been scammed.
To learn more about different types of scams and how to protect yourself and others, visit https://www.friendsagainstscams.org.uk/ and complete the free online training.
What we've been up to during lockdown
While we've been social distancing, all of us at Elder Tree have still been keeping in contact with our beneficiaries and doing what we can to continue supporting them. This work has been recognised by Plymouth City Council and Healthwatch Plymouth who have shared our news on their social media pages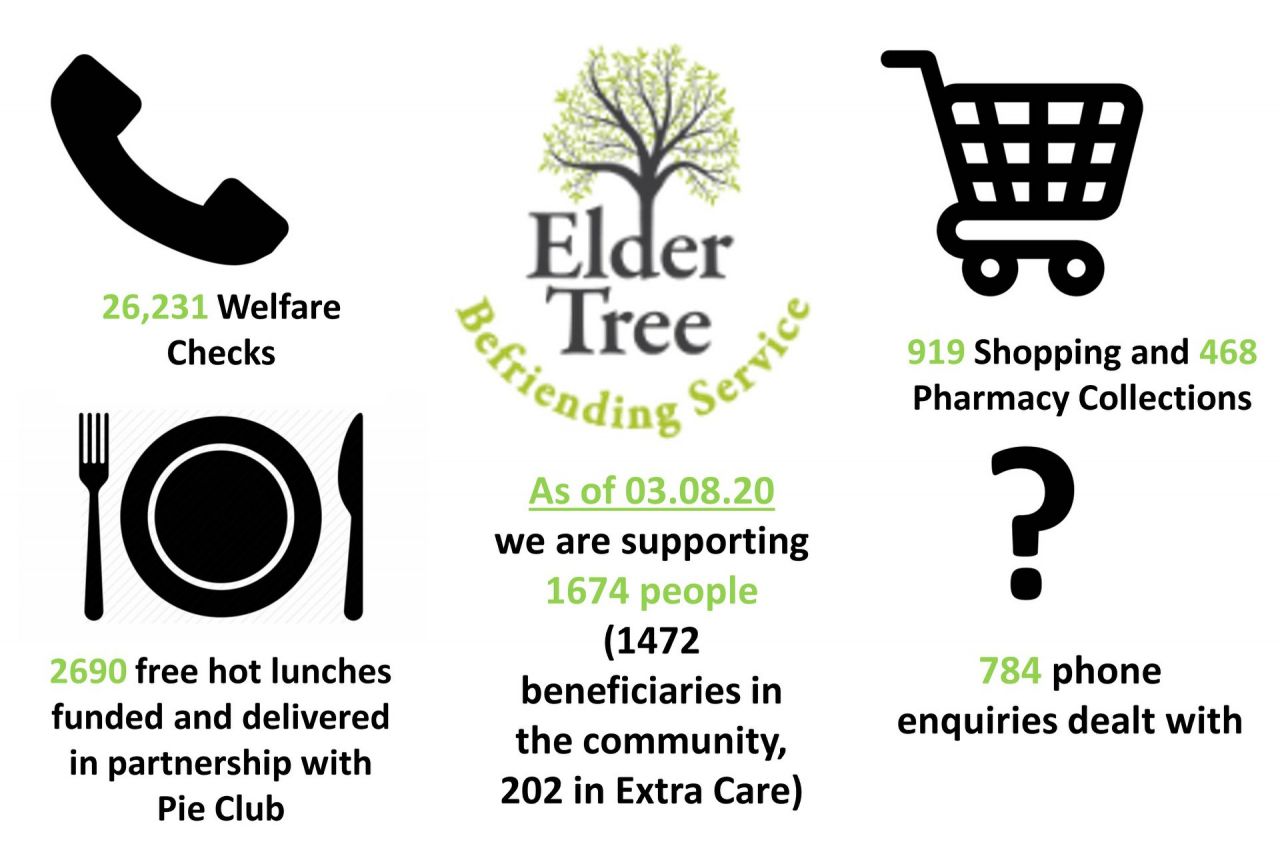 More resources with information can be found:
Public Health England for Social Community Care or Residential Settings